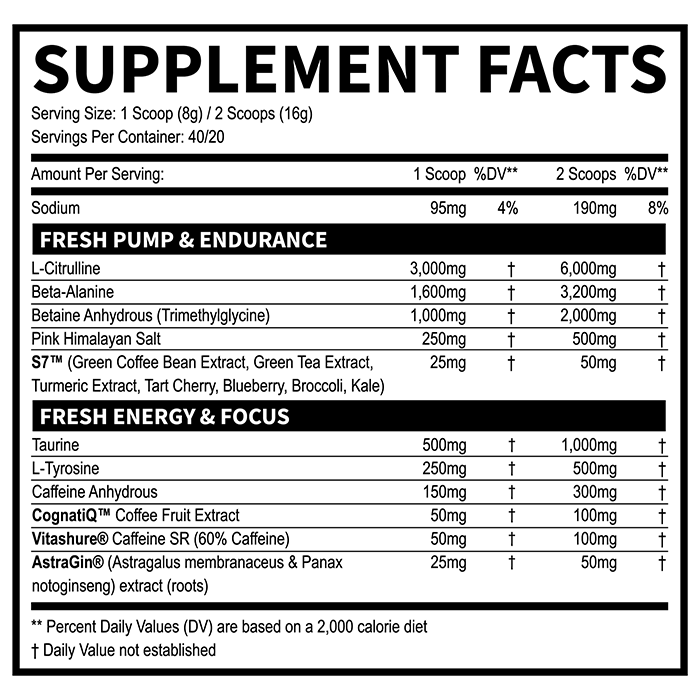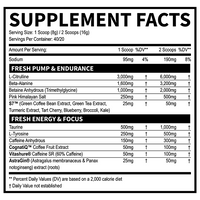 Fresh™ Pre was designed with the worlds best trademarked & standard ingredients from around the globe to deliver a premium pre-workout experience. Clean & long-lasting energy, a sick pump & topped off with tunnel-vision focus & euphoria.

• All-Day Energy*
• Sick Pumps*
• Zero Crash*
• Razor-Sharp Focus*
Unreal
Flavor is so so good, nothing like it on the market, gives me the best pump and the energy is the perfect amount but if you need a little more opt for that second scoop. 100/10 would recommend
FS Buyer
Having tried the first two flagship Italian Ice and Miami Vice flavors and then trying the three newesr I can confidently say FreshSupps is an excellent preworkout that is a strong daily driver. Having worked out for 15+ years, I have tried a lot of different kinds of pre. Fresh is top of the line, no crash and no real crazy jitters. It gives a great boost and I couldnt be happier with the flavor
Awesome
Highly recommend the Rocket Pop Pre workout. Great flavor, great energy with no burnout. Nothing else like it, will be ordering again!
Love this stuff
I'm a big fan, the product seems quality and tastes great
L-Citrulline
An amino acid that aids in production of nitric oxide which delivers the sought-after "pump". Unlike other pump ingredients, pure l-citrulline is not destroyed by the liver, allowing it to be better utilized by the body.
6g L-Citrulline
3.2g Beta-Alanine
50mg S7™
360mg Caffeine (2 sources)
100mg CognatiQ™
50mg AstraGin®