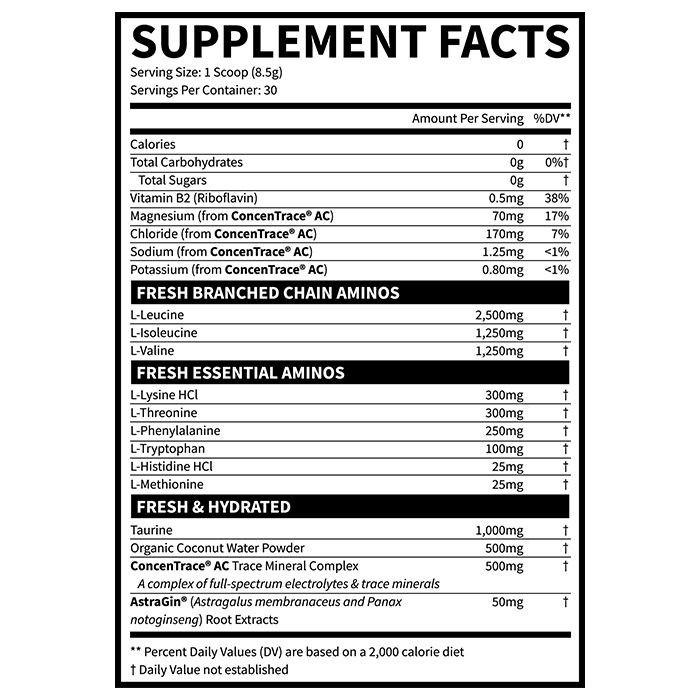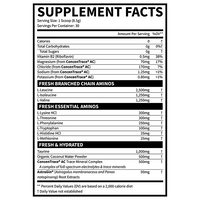 Fresh™ Amino is a simple, but extremely effective BCAA/EAA formula designed to improve muscle recovery, hydration & overall performance during training.

• 6g Total EAA's
• 2:1:1 Ratio of BCAA's
• Improve Hydration*
• Antioxidants & Electrolytes
the best tasting product
this product label is insane but the taste omg. Literally the best tasting amino or product i think i've had! i also got a tub without a scoop and they are working to fix it!
The goods
Supplements that taste good, by people you can trust. I've never felt so comfortable, relying on a supplement!
Preworkout Review
I have been using the Preworkout Miami Vice flavor. 1st off, flavor is awesome. I really like it. As far as the efficacy of the product, it really has a nice sustained energy pop and no jitters. I definitely am getting great pumps with this also. Overall, this is a quality product. I highly recommend it.
One pleased customer
Incredible clean product! Very excited to continue to try new flavors.
BCAA
Our Branched Chain Aminos (BCAA) are a 2:1:1 ratio of L-Leucine, L-Isoleucine & L-Valine. This dosing ratio has been shown to prevent the breakdown of muscle during intense training.
5g BCAA
1g EAA
1g Taurine
500mg Organic Coconut Water
500mg ConcenTrace® AC
50mg AstraGin®